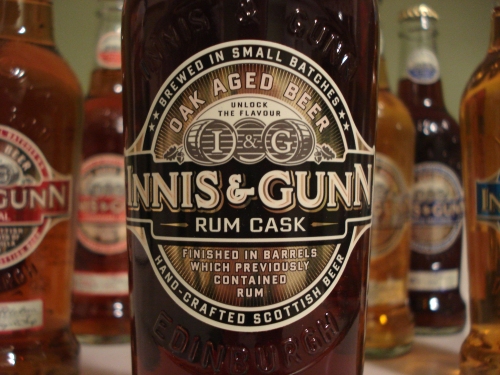 This is one in an occasional series of posts reviewing various beers from Innis & Gunn. For the previous post in the series, covering Innis & Gunn Original, click here.
When I wrote my first in this series of Innis & Gunn reviews back in mid-October, I didn't expect that I'd be posting them on such a glacial schedule. But as is usual for this blog, it's taking me longer than hoped due to the thousand-and-one other things to which I've got myself committed. (Which reminds me that it's been ages since I last posted a round-up to my beer-related posts on Taste T.O. – I really should get around to that sometime as well…)
Anyway, in the nearly two months between then and now, one of those "other things" that I was lucky enough to do was  attend a dinner presented by the secretive underground dining club Charlie's Burgers that featured Innis & Gunn beers paired with food prepared by Jonathan Gushue and Victor DeGuzman, the Executive Chef and Executive Sous Chef respectively at Langdon Hall, one of the top restaurants in North America. The food was absolutely stellar, one of the most memorable meals I've had in my life, and I was especially impressed by the pairings given that the chefs admitted that they'd never done a beer dinner before. While not every match was absolutely perfect, most were excellent, and there were no train-wrecks.
With so many great dishes and solid pairings to choose from, it was hard to pick a favourite. The poached Colville Bay oysters paired with I&G IPA was a surprisingly solid match, and the pure decadence of the Atlantic lobster in hand-churned butter with pig cheek and foie gras torchon would've blown me away even if the beer on the side, I&G Original, hadn't been such a good accompaniment.
Since it was a multi-course tasting menu, there was no traditional "main" course for the dinner, but the final course before dessert was an outstanding elk tenderloin served with smoked tongue (better than it sounds!) and several sides, all paired with Innis & Gunn Rum Cask. It was a great match, and while the bottle I had at home a few weeks later wasn't paired with such an exciting dish – just a couple of pieces of good chocolate – it was still enjoyable.
I&G Rum Cask  is currently available in Ontario as part of the I&G "Connoisseur's Oak Collection" holiday gift pack along with bottles of I&G Original and IPA and a nice branded glass. It's apparently slightly different from the version that was available in single bottles last December, but my impressions were so close to what I wrote about the 2008 version on Taste T.O. that I might as well quote myself:
It has a much darker reddish hue than [I&G Original], and a deeper and richer aroatma with strong notes of spice, rum and sweet toffee. Rum also comes through prominently in the flavour, along with sweet malt and a bit of oak, and a mild spiciness in the finish. It's a warm and flavourful beer that could be enjoyed with many desserts and sweets, or just on its own as a pleasant nightcap.

My only criticism, which is the same one I've lodged against other I&G beers, is that the fairly light body doesn't quite hold up to the flavour, although I'm sure that my strong appreciation for the barrel-aged imperial stouts and barley wines that are becoming more and more common in the US craft brewing scene may be influencing my opinion in that matter. To others, it may seem just right. Either way, it's a tasty winter treat.
Next up: I&G Triple Matured. Watch for it sooner than two months from now, hopefully…