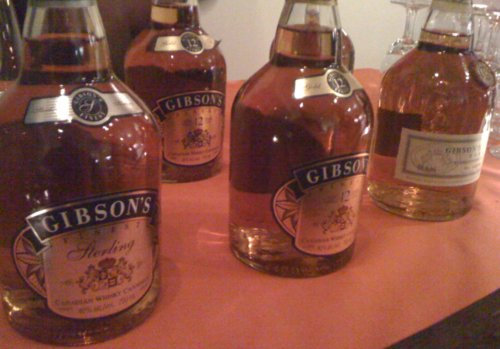 I'm not sure if it's a reaction to my articles on Glenfiddich and Jack Daniel's posted to TasteTO last fall, or just a general increase in the number of tasting events being held and promo samples being sent out. But whatever the reason, I've seen a serious spike in pitches to do stories on whisky recently – so much of a spike that I have quite a backlog of notes and samples to get through and write up.
While it might be a bit optimistic of me given my usual track record with these sort of things, I'm going to attempt to do a series of daily posts this week covering the various whiskies I've sipped and savoured in the past couple of months. I'll note right up front that even though I love the stuff, I'm far from being a whisky expert, but one of the reasons I want to do this series and future articles on the topic is to help myself learn more about wide variety of whiskies and other related spirits that are out there.
First up is the series is Gibson's Finest, a Canadian whisky that I'd never tried before a tasting a couple of months back. The history of Gibson's is long and complicated, and rather than trying to recap it here,  I'll just mention that the brand is currently owned by William Grant & Sons (also owner of Glenfiddich, Balvenie, and many other whisky and spirit brands), and direct those who would like to know more to this post on the excellent website Canadian Whisky that gives the whole story.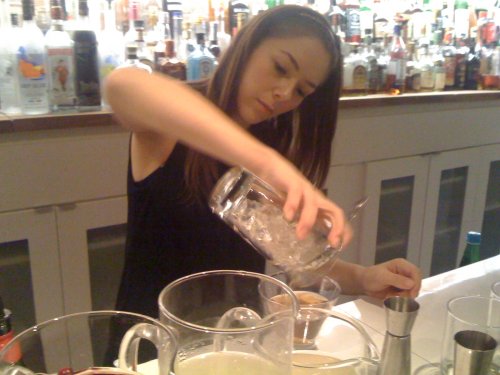 Held at the private barroom of The Martini Club, a cocktail consulting firm here in Toronto, the tasting had the three main whiskies in the Gibson's range being served as straight-up tasting flights as well as in several cocktails. As it was one of the first wintry nights of the season, I broke my usual rule of going for the straight stuff first, and accepted a splash of Hot Toddy to warm up a bit when I arrived. But then it was right over to the pouring table to sample the trio in their natural state.
First on the slate was Gibson's Finest Sterling (LCBO 189217 – $25.25/750 mL), an age statement-free blend that is described as having a "great versatility for mixing" – or in other words, not really intended for sipping straight. As it's made primarily with corn – along with smaller portions of rye, barley and wheat – there is perhaps a fleeting kinship with Bourbon, as evidenced by the subtle notes of vanilla and oak. There's a bit of toffee in there as well, but not much else, making this a pretty simple whisky that provides a clean slate for building cocktails upon.
More suitable for stand-alone enjoyment is Gibson's Finest 12 Year Old (LCBO 3558 – $27.45/750 mL), a more complex spirit that has notes of vanilla, baked apple, spice (especially cloves and cinnamon), a subtle nuttiness, and a peppery finish. A splash of water cuts through the spice and pepper, and brings out am enjoyable burnt sugar sweetness. With this, I was starting to understand why Gibson's is so revered by fans of Canadian whisky.
That understanding was furthered with the final offering, Gibson's Finest Rare 18 Year Old (LCBO 469114 – $ 64.95/750 mL). Intended as a sipping whisky rather than a mixing one, it has a strikingly complex character that features butterscotch and caramel, burnt sugar, roasted marshmallow, toasted wood, pepper, vanilla, marzipan, and likely more that my still developing whisky palate didn't discover. Had I been served it blind, I likely would've pegged it to be a top shelf Bourbon.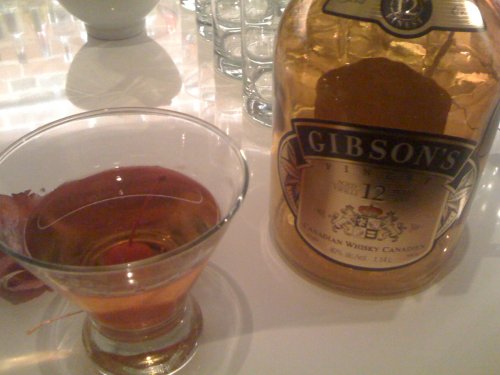 On the cocktail side of the room, there were three options on offer: two in-house creations, True North and Mint Divine, as well as the classic Manhattan. I tend to prefer my cocktails simple, with the booze given the spotlight, so I went with the Manhattan and wasn't disappointed. The 12 Year Old was a suitable base whisky, the 1.25:0.75 ratio of whisky and vermouth was bang on, and the use of Fee Brothers orange bitters rather than the typical Angostura added a nice zestiness around the edges.
I came out of the tasting impressed by the quality of these whiskies that I'd ignored for so long. I doubt they'll ever supplant Scottish and American products as the favourites of most drinkers (myself included), but for those who appreciate Canadian whiskies, at least two of the three deserve some serious attention.