Since today is Victoria Day – aka Canada's unofficial first day of summer – it seemed fitting to review some of the beers in the LCBO's Summer 2011 Specialty Beer promotion. And since the format seemed to be popular when I did it a couple of months ago with the Spring release, I'll be pairing them up with notes on a few of the newest additions to the LCBO's Whisky Shop premium whisky program. Here's the first duo, with another pair to follow each day this week.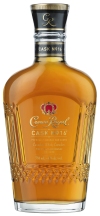 Crown Royal Cask No. 16
(LCBO 64337 – $99.95/750 mL)
Named for the origin number of the Congac oak casks from the Limousin forest in France that are used to age this premium blend of more than 50 whiskies before it's bottled, Cask No. 16 comes from the higher end of the Crown Royal range – only Crown Royal XR (Extra Rare) is more spendy. Hints of the Congac-infused wood come through in the aroma, along with plenty of fruit (peach, apricot, sweet orange), toffee, toasted nuts, and suggestions of leather and cinnamon. The flavour shows more of the Congac and fruit – taking on almost a fruit cocktail character – but this is still a Canadian whisky at heart, as evidenced by the notes of rye, vanilla, oak, and black & white pepper. While you can feel free to mix it with Coke or Canada Dry if you'd like, it would really be a waste, as this is a whisky more suited for sipping neat.

Celt Golden Crafted Ale
(LCBO 224600 – $3.45/500 mL)
There are a slew of UK golden/blond ales in this release (the others are listed below), and while the Celt wasn't my favourite, I chose it to review over the others due to the uniqueness of it being a beer from Wales, which I believe is a first for the LCBO. The body, as the name suggests, has a golden-orange hue under a small white head. The aroma is intriguing – there's the expected grass/hay maltiness, and some leafy hops, but also something around the edge that reminds me of lychee, as well as hints of candied citrus peel. The flavour is a bit more standard for the style – lightly roasted and moderately sweet malt, balanced by hops that are a herbal and a bit earthy. Mild citrus and a wisp of licorice come through in the end. It's a very nice summer quaffer, as are the other golden ales in the release: Dark Star Sunburst (LCBO 223818 – $3.45/500 mL), Badger Golden Champion (LCBO 244632 – $3.50/500 mL), and Fuller's Organic Honey Dew (LCBO 676858 – $3.50/500 mL) – the latter brewed with and tasting pleasantly of honey, just as the name suggests.