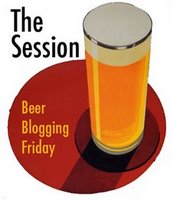 Given that BB&B is one of the most infrequently updated beer blogs on the whole damn internet – plus the fact that people apparently aren't reading beer blogs anymore, anyway – I doubt that there are (m)any people out there waiting with the bated breath for me to post here more regularly. But that's still my plan for the next month or so, when one of my major time commitments is on a break, giving me some free time to do a bit of writing here.
(I briefly had a brilliant/ridiculous idea that I would try to do at least one post a day for the month of April, but since I missed April 1st, that's been set aside. Plus I stupidly hit "Save Draft" rather than "Publish" when I finished this post last night, so I missed April 2nd as well…)
To kick off what I hope will be a productive and regenerative month for this blog, it seems fitting to contribute to The Session, the monthly beer blogger hootenanny that I was all gung-ho about for the first year or so, but which I haven't participated in for quite some time. This month's theme, as chosen by Sean at Beer Search Party, is "Cult Beers", inspired by brews like Dark Lord and Kate The Great that people will travel for hundreds of miles and line up for hours to obtain.
Specifically, the questions to be answered are:
What beer have you tasted recently (say, the last six months or so) that is worthy of their own day in the media sun?

And to add a little extra to it, how does "great" expectations affect your beer drinking enjoyment?

AND If you have attended one of these release parties, stories and anecdotes of your experience will be welcomed too.
My choice would be a beer that may seem somewhat unremarkable to many, as it's in a style that is a dime a dozen in the US craft beer scene, but up here in hop-deprived Ontario, it was joyously welcomed by beer geeks when first launched a few months ago.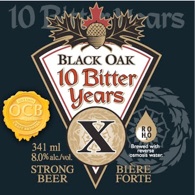 The beer is Ten Bitter Years, a 10th anniversary beer from Black Oak Brewery that they've refused to tag to a particular style themselves, but which many consider to be a Double IPA. When I wrote it up for Taste T.O. back in January, I described it as follows:
[T]he "Bitter" part of the Ten Bitter Years name is there for good reason. This becomes obvious almost immediately after the slightly hazy golden-amber liquid is poured and placed down, as huge aromas of grapefruit and orange peel spring forth from the glass, along with hints of pine and tropical fruit. All of these come through powerfully in the flavour as well, with grapefruit in particular taking the lead position. A suggestion of balance is provided by some fleeting notes of caramel, but honestly, with this beer, it's all about the hops.
Again, for those who have easy access to the beers of Stone or Avery or the multitude of other American breweries that worship at the altar of the hops, Ten Bitter Years might elicit a bit of a "meh". But in this province, where it's only been in the last couple of years that our brewers have started to dropping the hopbombs, and usually only as ultra-limited one-offs for special events and such, having a beer of this sort more widely available has been a pure joy.
It hasn't been TOO widely available, though, which is why I would consider it worthy of "cult" status. Problems with Black Oak's bottling line made it look like it would be limited to cask and keg distribution exclusively, which meant that each time it popped up at a different bar, word would spread quickly, and the tap would soon run out. But then it recently came out that bottles would be offered after all, inspiring so many queries about when exactly they'd be available that Black Oak owner Ken Woods posted an April Fool's Day announcement on local craft beer forum The Bar Towel indicating that the bottles sold out near instantly when they went on sale at the brewery.
(Or at least it appeared to be an April Fool's Joke – Ken has yet to return to the forum to confirm one way or another, so maybe there really was a mini-Dark Lord Day out in Etobicoke that I missed out on…)
So – is Black Oak Ten Bitter Years cult-worthy? Probably depends on how you define the term. But whether it is or not, it's still a landmark beer in Ontario's craft brewing scene. So in that regard, it deserves as much attention and as many accolades as it can get.